Backpacker Jobs in Raglan, NZ
Sun, surf and (black) sand; welcome to Raglan, home to New Zealand's most famous waves. Located halfway up the west coast of the North Island, this small town of 3000 comes with a big reputation, not just for surfing, but for creativity, environmentalism and counterculture. This is New Zealand at its most alternative, and in a setting that can only be described as stunning.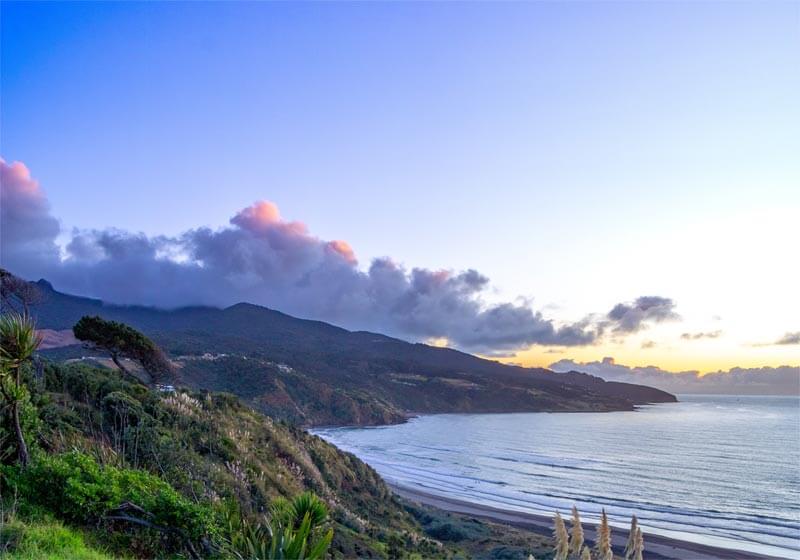 But is Raglan a must-see destination for a backpacker in New Zealand? And should it be on your list if you're looking for employment as a working holiday visa holder?
Let's take a look.
Where is Raglan, and how do I get there?
Raglan sits on the west coast of the North Island in the Waikato Region. It's a short 40 minute drive from the regional capital of Hamilton, and two hours south of Auckland. For those who prefer public transport, one hour bus services run between Hamilton and Raglan multiple times a day.
What is Raglan famous for?
Surf, surf and more surf. After being featured on the seminal 1966 documentary The Endless Summer, Raglan saw an influx of surfers looking to call the town home, and the population of this previously quiet spot quickly doubled. Many say that Ngarunui Beach is home to the longest, most consistent and most accessible left hand break in the world, with surfers able to settle in for rides of up to two kilometres.
The black sand beaches of the area, gifted by millions of years of volcanic activity, give it a distinct look and feel. And if you're not an avid surfer, there are plenty of spots that are more suitable for swimming.
The town itself is a cultural and creative hub, with a number of festivals held throughout the year. The Raglan Creative Market specialises in local arts and crafts, and it's hard to find a pub or cafe that doesn't have some form of live music.
What are Raglan's must see attractions?
Ngarunui Beach: Consistent, world-class surf on a stunning beach - what more could you ask for? Ngarunui is Raglan's major attraction, and it doesn't take a genius to realise why.
Bridal Veil Falls: One of the most stunning waterfalls in all of New Zealand, Bridal Veil is 55m of raw natural beauty that is perfectly framed by the surrounding tawa tree-dominated forest.
Karioi Summit Track: Located in a majestic national park that looks over Manu Bay, where surfers begin their long journey to the shores of Ngarunui Beach, the Karioi Summit Track offers the area's best views.
Kawhia Hot Water Beach: This one is a bit of a local secret. 55km south of Raglan you'll find a quiet and unassuming beach, but bring a shovel at low tide, and you can dig yourself a natural hot spa right in the sand!
Where should I stay in Raglan?
For a discount dorm bed: One of the best hostels in New Zealand, Raglan Backpackers is a piece of surfy perfection. A weekend trip can turn into a month's stay very easily here!
For something slightly fancier: Solscape Eco Retreat is a couple of extra dollars a night when compared to Raglan Backpackers, but for that money you get an incredible view from the foot of Mt Karioi, and are positioned just a short bush walk from Ngarunui Beach.
To treat yourself (at a sensible rate): Thinking of splurging a little? Entabeni is a bed and breakfast that is more than worth the investment!
Is there work for backpackers in Raglan?
Raglan isn't a hub of industry or commerce, but rather a place for people to get away from it all. Opportunities for employment aren't as abundant here as they are elsewhere, although they certainly still exist.
Hospitality work is the most common job opportunity in the town, with hostels often looking for helpers, and local coffee shops and pubs on a near-constant hunt for baristas and bartenders. If you have experience as a surf instructor you could be hot property, particularly in the height of summer.
So, is Raglan worth a visit as a working holidaymaker? As a beautiful and unique part of New Zealand, and as an opportunity for a holiday within a holiday, it most certainly is. But if you're looking for somewhere that you can put your head down and top up your savings, there may be better options.
Raglan is stunning, and there's no doubt that you should head there. But how long you stay will be up to you...