Backpacker Jobs Hawke's Bay
We are water bottling factory looking for a forklift driver to cover our busy season in the summer season.The pay will be $25 per hour.Job is to prep the daily...
We are looking for a skilled chef to become a valued member of Scenic Hotel Te Pania! Join our team and immerse yourself in a fantastic atmosphere with breath-taking...
WE ARE HIRING:Freshco is currently seeking for individuals to join our orchard team, we have work opportunities in apples, kiwifruit and grapes.As well as...
LOCATION: Hastings, Hawkes BayWE ARE HIRING:Freshco is currently seeking for individuals to join our packhouse team, we have a variety of positions available...
Green Planet Limited is a family owned packhouse near Napier. Accomodation is available in Napier at various backpackers. Our season starts approx mid feb and runs to...
Freshco is super excited for the upcoming 2023 packhouse season, starting on Tuesday 7th February. We are currently seeking for individuals to join our team.We...
We are after some contract workers in Napier for February 2023. Installing racking in warehouses.If you have an Electric Work Platform (EWP / Scissor lift)...
WORK AVAILABLE!!Vineco are currently seeking motivated, reliable, and hardworking individuals to join our team in the sunny Hawkes Bay for the 2022/2023 season....
6 hours work per day picking asparagus 5-6 days per week.
We are currently looking to employ general laborers for fixed term contracts to start Early November 2022 until February 2023.We specialise in orchard development...
Are you our harvest hero? Want to try somewhere different?Come experience NZ country living - fresh mountain air, real people, honest hard work. No experience...
Backpacker Jobs in Hawke's Bay, New Zealand
Hawke's Bay is usually visited because it is the region in which you find Napier and Hastings, the two big cities. While Napier is a charming city famous for its Art Deco style that was used after Napier had been devastated by a huge earthquake, Hastings might not be overly pretty but makes up for it by providing easy access to plenty of wineries and good shopping. Hawke's Bay is known as New Zealand's fruit bowl. You would have to be very unlucky not to find a seasonal job in an apple or stonefruit orchard. There are orchard jobs all year around but a lot more in summer, and especially during the picking season.
Backpacker Jobs in Hawke's Bay, NZ
Looking at a map of New Zealand's North Island, you'll see a chunk of the eastern edge missing. This 100km bite is Hawke's Bay, a semi-circular piece of coast that is surrounded by the green hills of its namesake region. On these hills you'll find row upon row of fruit, whether in orchard or vineyard form; Hawke's Bay has a reputation as the food bowl of New Zealand, as well as its leading region for full-bodied red wines.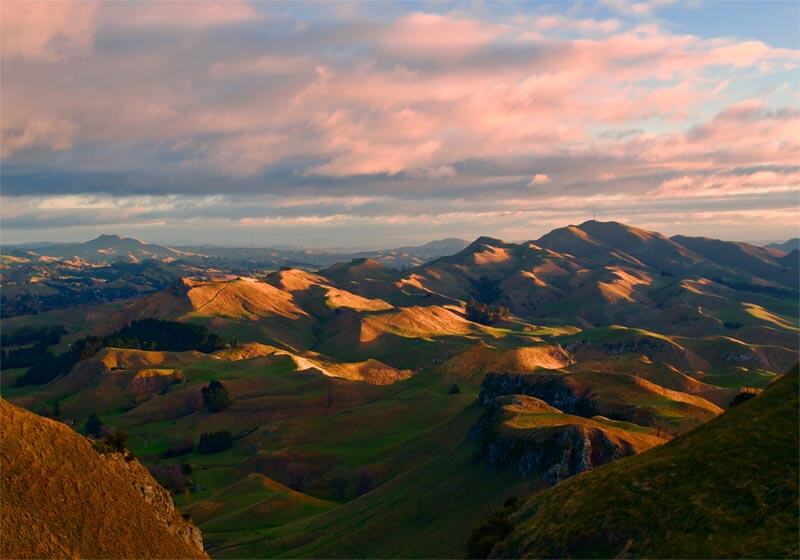 But is Hawke's Bay a must-see destination for a backpacker in New Zealand? And what does the area offer working holiday visa holders?
Let's take a look.
Where is Hawke's Bay, and how do I get there?
Hawke's Bay is on the east coast of New Zealand, halfway up the North Island. It's a five hour drive southeast of Auckland, and a four hour drive northeast from Wellington, and semi-regular flights can be caught from most major New Zealand cities to the region.
What is Hawke's Bay famous for?
Lacking the spectacular mountains of Otago, the geothermal landscapes of neighbouring Waikato and Bay of Plenty, or even a large city, Hawke's Bay doesn't sit atop many sightseeing lists. But while it may not be well known amongst tourists, Hawke's Bay is certainly well known within New Zealand.
Recognised as the nation's food bowl, its fertile soils, kind climate and open spaces have turned Hawke's Bay into a produce powerhouse. Orchards and vineyards cover a good percentage of the region's hills, and the fine wine has led to a profusion of fine dining experiences popping up, making Hawke's Bay a haven for foodies.
The other major drawcard is the region's capital of Napier. While far from a large city - just 60,000 people call it home - it is famous as an art deco hotspot. Rebuilt in the 1930s after a devastating earthquake, it now boasts one of the highest concentrations of art deco architecture in the world.
What are Hawke's Bay's must see attractions?
Marine Parade: The Pacific Ocean on one side, the art deco beauty of Napier on the other, Marine Parade is a joy to wander down on a sunny day. Be sure to pack the camera!
Te Mata Peak: Hands down the best view in Hawke's Bay, if you manage to scale the 399m of Te Mata (don't worry, there's also a road), you'll be treated to the sight of Hawke's Bay sprawling out in front of you.
Hawke's Bay Farmers Market: There's no better place to find New Zealand's freshest produce than the Hawke's Bay Farmers Market, held every Sunday in Hastings.
Hawke's Bay Wine Region: Centred around Hastings, there's no bad choice amongst the local wineries, so why not find a designated driver and try them all?
Where should I stay in Hawke's Bay?
For a discount dorm bed: Found in a historic piece of art deco glory, Criterion Art Deco Backpackers is a cheap and cheerful option with both dorm and private rooms.
For something slightly fancier: A slightly more upmarket Napier hostel option, in an art deco building complete with a beautiful terrace, Toad Hall is a perfect combination of comfort and cost-effectiveness.
To treat yourself (at a sensible rate): Want to match the fine food and wine with fine accommodation? There's no better place than MnM's BnB in Napier.
Is there work for backpackers in Hawke's Bay?
The short answer: yes.
Thanks mainly to the thriving horticulture industry, Hawke's Bay is becoming a mecca for working holidaymakers looking to earn a bit of money in temporary, casual employment. Along with wine grapes, apples, pears, stone fruit and vegetables are big here. This variety of produce means that while the picking season might peak in summer, work is on offer almost all year round.
Picking aside, work can also be found in the local tourism and hospitality industries, which feed off the region's growing reputation as a wine capital.
So, is Hawke's Bay worth a visit as a working holidaymaker? With its wealth of backpacker-driven work, it most certainly is! And by dropping in, you'll get to enjoy an underrated region that many other tourists skim over. It's a chance to take a deep dive into the 'real' New Zealand - not the one on the postcards, but the one that locals live and breathe every day.
And if you can earn a bit of cash while enjoying this authentic experience, all the better.