New Zealand seems to have been one of Mother Nature's pet projects. A stunning country, the list of must see and must-do activities in New Zealand is incredibly long, despite it being a relatively small place.
This makes things tricky for travellers who only have so long to spend in the land of the long white cloud. Of all the stunning experiences available, which are the most must-do in New Zealand?
This article looks to answer that exact question. Starting in the north and ending in the south, let's take a look at what to do in New Zealand if you're looking for the most exciting, authentic and memorable experience possible.
The best of the North Island
A three and a half hour drive or 35 minute flight north of Auckland, Bay of Islands is a gorgeous little enclave that does exactly what it says on the tin. 144 stunning subtropical islands dot the bay, most with secluded natural beaches that visitors can call their own for the day. You can cruise the bay by boat, but we'd recommend a more peaceful and natural option: rent a kayak, throw on a life jacket and paddle from spot to spot.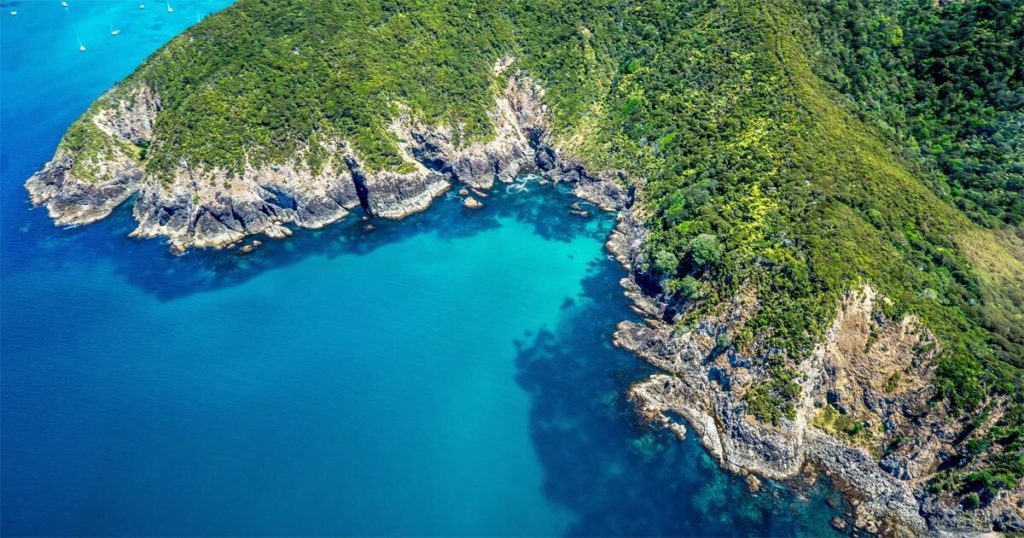 2. Set sail, Cathedral Cove
Another area of unspoilt coastal beauty, Cathedral Cove is found a two hour drive east of Auckland. You'll have to drop the car some way off though, because this stunning part of New Zealand is situated within the bounds of Te Whanganui-A-Hei Marine Reserve, and is accessible only by foot, boat or kayak. After exercising the arms at Bay of Islands, you've got every right to explore the rugged ignimbrite cliffs and pristine beaches of Cathedral Cove by boat.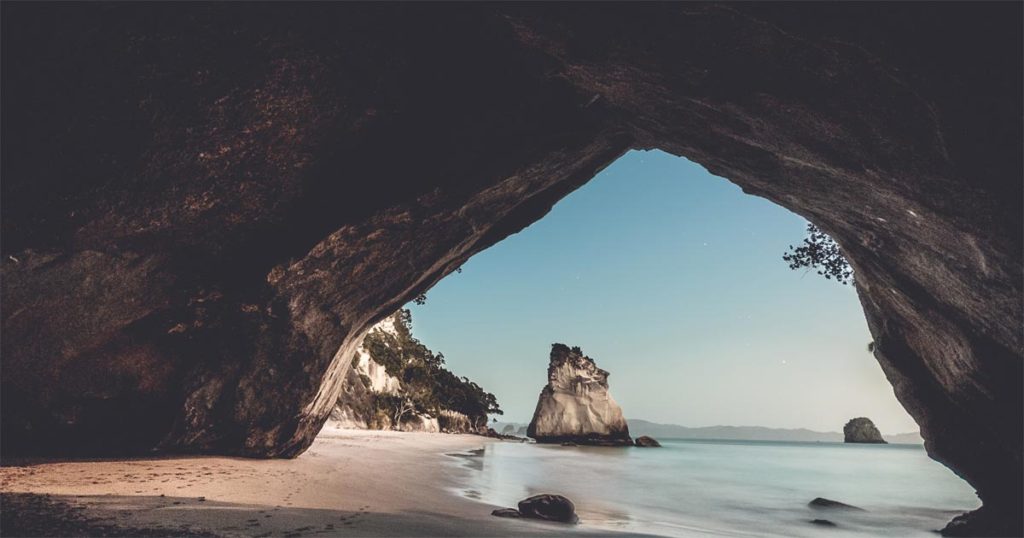 A ten minute drive south of Cathedral Cove will take you to Hot Water Beach. Dipping your toe in the ocean you might wonder how this patch of sand got its name… but if you have the foresight to take a shovel, the mystery will be solved. Dig a hole in the sand, let it fill with water, and the thermal activity beneath will do the heating. It's never been easier to build your own spa!
New Zealand's most famous surf break can be found just outside the Waikato town of Raglan. Home to a number of international surf competitions every year, these waves can roll on for literal kilometres. You'll find surf for both beginners and experts here, so if you're the level of surfer that isn't quite sure which side of the board to stand on, there's no need to stress!
No New Zealand experience is more otherworldly than the Waitomo Glowworm Caves. Home to a type of glowworm found only in New Zealand, tourists have been walking and floating through these caves for 130 years. The novelty has far from worn off however; seeing a galaxy of glowworms light up ancient rock formations is as jaw-dropping now as it has ever been.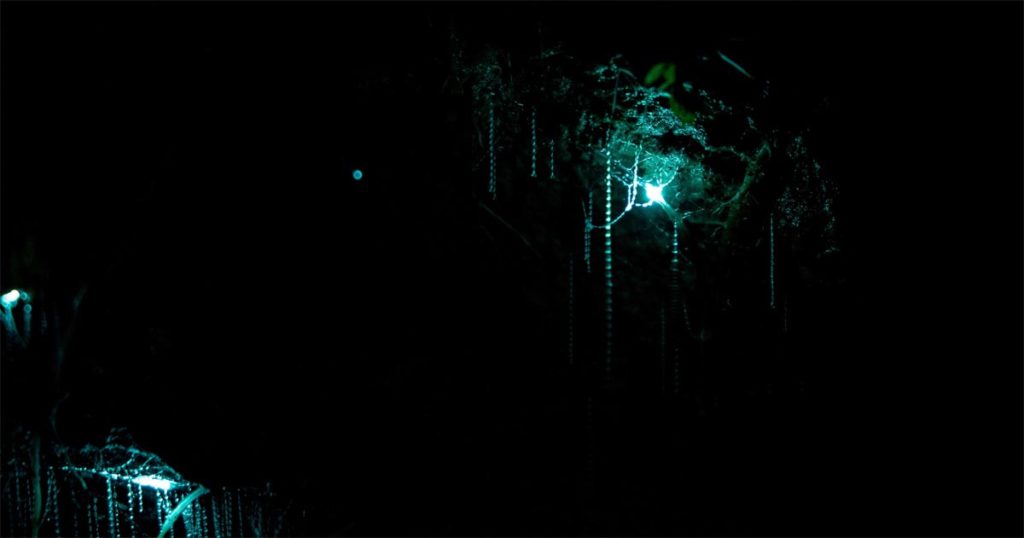 Sure, New Zealand is famous for its sheep, wine, nature and plenty of other things, but it's arguably most famous for a little book written by a not-so-Kiwi but rather English author. Director Peter Jackson chose his home country as the setting for the film adaptation of JRR Tolkien's The Lord of the Rings, and at Hobbiton Village you can immerse yourself in this incredible world. Even if you're not a fan of the flicks, this movie set is a truly unique experience.
There's no better place than Rotorua to learn about New Zealand's indigenous culture. This is an area with a particularly rich Maori heritage, and Tamaki Maori Village puts it on full display. Here you can gain a deep understanding of the culture, eat traditional hangi (food cooked underground) and witness the raw power of the Haka, the war dance made famous by the All Blacks, New Zealand's national rugby team.
As the steam rises up around you you might seriously wonder whether Orakei Korako Geothermal Park is about to swallow you whole. But as surreal and unnerving as this landscape might appear, it's perfectly safe and also oddly beautiful. The breadth of colours generated by the geysers, hot springs and mud pools is incredible – photographers will be in heaven, despite the scenery perhaps giving off more of a 'hell' sort of vibe.
Despite the efforts of cagey locals to keep it a secret, the word has finally got out. Rere Rock Slide Waterfall is a gently sloping 60m slab of stone that acts as a natural slide, sending thrill seekers careening into the pool below. It's best to guard your knees and bum with some form of cardboard or plastic, as while the rock looks smooth, the little ridges and bumps won't tickle when you hit top speed! This is a perfectly fun little side trip that will add a bit of personality to your New Zealand adventure.
Stunning doesn't even begin to describe Tongariro, New Zealand's oldest national park, and the fourth to be established anywhere in the world. This raw and unadulterated place is home to two of the world's greatest hikes – the Alpine Crossing (one day) and the Northern Circuit (three to four days). It's advisable to attack these walks in the summer months, as the altitude means that these mountains attract a heavy dusting of snow every winter.
The best of the South Island
Located at the northern tip of the South Island, an hour's drive from Nelson, the colours of Abel Tasman National Park have to be seen to be believed. Crisp golden sands find themselves sandwiched between lush forests of deep green on one side and a medley of ocean blues on the other; turquoise, sapphire, sky, sea, and whatever other names the Dulux colour chart can serve up. Here you'll cruise, walk or kayak between beach stops, and meet plenty of friendly locals, particularly sea lions, along the way.
While it's a country now famous for its wine, the region of Marlborough put New Zealand on the map of oenophiles. Centred around Blenheim and the Wairau Valley, this area is renowned for its whites, particularly Sauvignon Blanc. The soil and climate here are ideal for the grape, producing wines that are whatever the vintners want them to be – dry or fruity, light or bold, cheap and cheerful or an investment that requires a mortgage.
Like marine wildlife? You'll love Kaikoura. This tiny town of 2000 is where you'll find New Zealand's greatest concentration of dolphins, seals, whales and seabirds. The sperm whales are the most popular attraction, swimming in the local waters all year round. Humpback whales also cruise through every June and July. The original settlers of the area, the Fyffe family, actually used whale bone as supports for their home, a building which still stands today.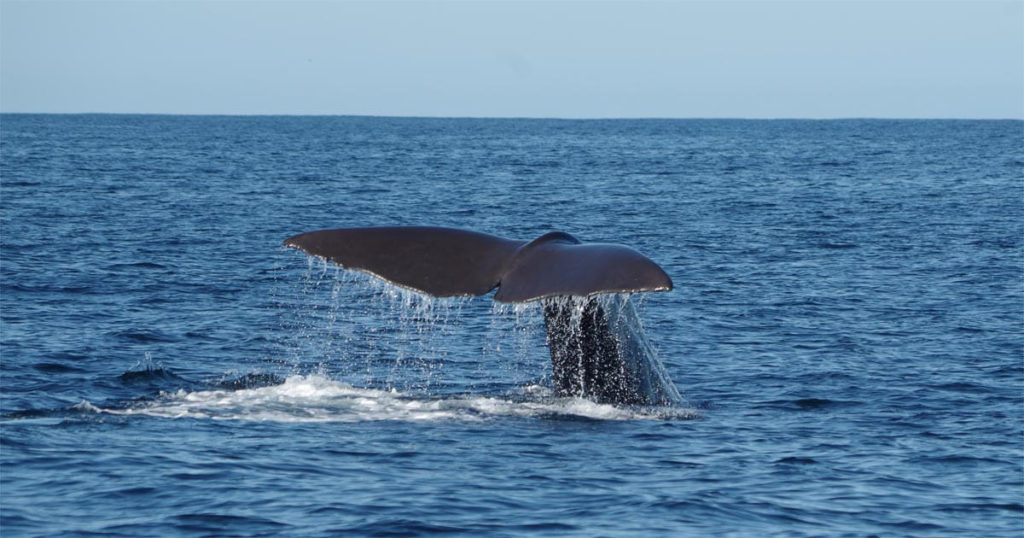 It's difficult to describe the sense of awe that you experience looking at Franz Josef Glacier. Descending from the top of the Southern Alps, all the way down to less than 300m above sea level, this slow-crawling tsunami of ice has been carving mountains for 120,000 years. To enjoy the very best views we'd suggest you begin by treating yourself to a helicopter ride, then strap on some spiky shoes for a hike on the ice.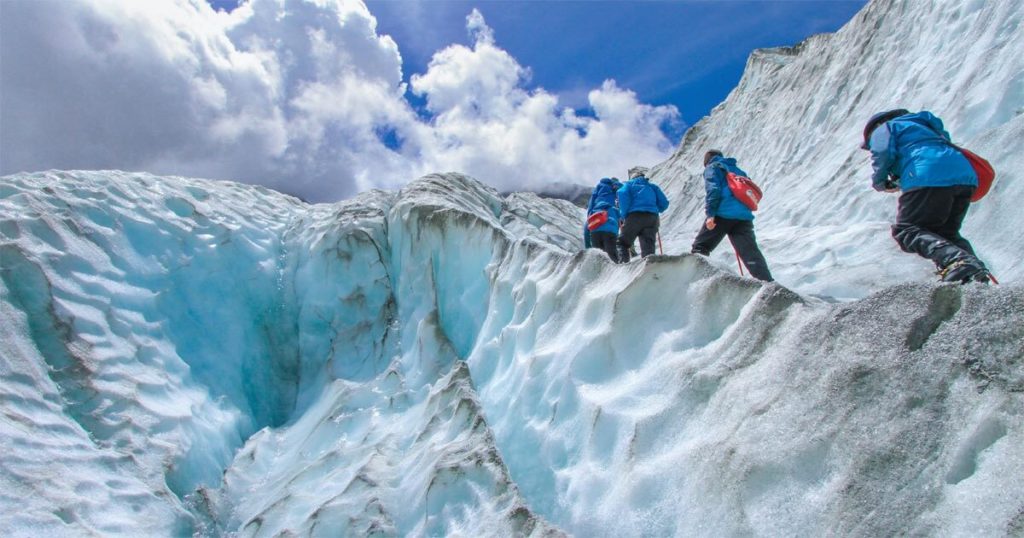 The west coast of the South Island is an untamed, almost intimidating place, and Milford Sound perfectly encapsulates this sense of awe. Arguably New Zealand's most famous tourist destination, here you'll see Mitre Peak rising 1700m straight out of the water, along with countless other mountains and waterfalls. The best view is from the sea, so find a cruise, sit back, and try to take it all in.
If you travel to New Zealand you are almost legally obliged to take a photo of the Wanaka Willow, now cleverly rebranded as #ThatWanakaTree. And when you see it you'll realise why. Once nothing more than a proxy fencepost for a local farmer, this beautiful tree stands alone in the waters of Lake Wanaka, with the Southern Alps forming the most stunning backdrop. You can expect bulk likes should you post this little charmer to your Insta stories.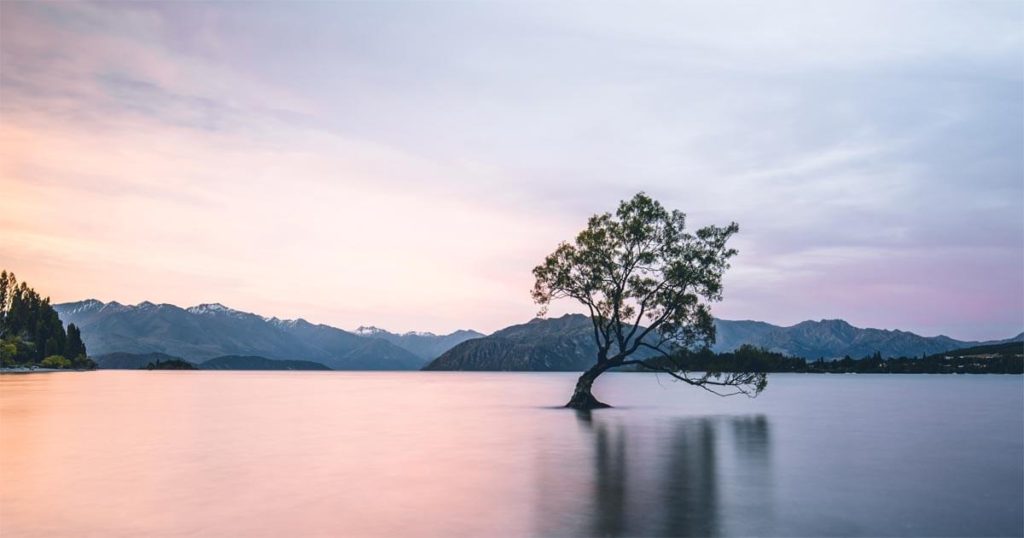 After your sunrise shoot with the tree, a five minute drive westward will get you to the starting point of the Roys Peak Track, an internet sensation all its own. This trail winds its way up a mountain covered in a lush layer of tussock grass, granting hikers an uninterrupted view of the incredible surroundings. You'll be treated to Lake Wanaka in the foreground and the Southern Alps in the distance, so make sure that your camera battery is charged!
The adventure sports capital of New Zealand, if not the world, no trip to Queenstown is complete without a healthy serving of adrenaline. And nothing encapsulates the spirit of the place better than the bungee. Queenstown offers a few different bungee options, but the granddaddy of them all is the Nevis Bungee, 134m and 8.5 seconds of pure, underwear-ruining excitement.
Bungee done, it's time to do what most people come to Queenstown to do: ski. Boasting an absolutely stunning location in the bosom of the Southern Alps, The Remarkables Ski Area is exactly that. There are a wealth of runs to suit every skill level, although it can be hard to concentrate when you're surrounded by such beauty. And if you happen to visit in summer, the mountain bike trails of the area are every bit as good!
With a wingspan of over three metres, the southern royal albatross is the largest flying bird in the world. At the Royal Albatross Centre in Dunedin visitors are offered a firsthand look at these stunning creatures in their natural habitat. The only mainland breeding colony of royal albatrosses in the world, here you can see their full lifecycle play out in front of your eyes. Hate albatrosses? Weird, but no sweat – plenty of other seabirds call this reserve home too!
New Zealand's third island sits just off the southern tip off the South Island, and boasts some of the country's best wildlife. But we're not here for the flora and fauna – we're instead going to sit back and look up. Due to both its southern location and a lucky magnetic anomaly, Stewart Island is one of the best places in the world (bar Antarctica) to witness aurora australis, otherwise known as the Southern Lights. The best shows happen over winter, so be sure to pack a jacket!